I'm sure you are coming to this article of mine wondering "what in the…______"(insert expletive here) is this dude talking about. Well, as Bills fans its very easy for us to be overly optimistic because we've been starving for the team to at least be respectable in the eyes of the NFL in terms of offense. For too long we have been the kid at the party, sitting in the corner wearing B.C.G.'s just wishing that we could get some action from people way out of reach.

Forward to 2018 and we all know that Bills drafted Josh Allen, the highly scrutinized Wyoming quarterback with websites and bad tweets dedicated to making the masses aware of how bad this kid could be on and off the field. I, myself fell into the trap of ripping this guy so when the team drafted him at 7 overall I was honestly pissed off, questioning what I thought was the dumbest mistake you could make as a GM. Just like you taking your time reading this article, we as Bills fans always come around to rooting for the QB that is supposed to be the next "Jim Kelly".
Enter Brian Daboll, who in the hell is this dude?! All we really know about him was that he's fresh out of the machine known as Bama and coming off a Natty. Served under the evil, known as Bill Belichick and had a few failing offenses in other previous stops. Now again we are left with "How in the hell are we supposed to trust the process!" That offseason we saw the Bills gut the entire offense. Gone were the likes of Tyrod Taylor, Sammy Watkins, Robert Woods, Marquise Goodwin, Cordy Glenn, Richie Incognito, etc. We could go on and on for days but this story sounds like a chapter in the book of Genesis. During that NFL season week after week, it felt as if the team did not have a clue nor a plan of action on that side of the ball and was setting up Josh Allen to fail miserably. Eric and I would hop on the podcast and just let it rip about how bad it was because this offense was downright putrid on so many levels. Just remember, and let it sink in for a little bit here. Mahomes was killing the league, Deshaun Watson was coming off an ACL tear and started showing the promise that he's shown his rookie season while Josh Allen was throwing to Professor Klump looking for his next bucket of chicken. I say all that to say that Daboll didn't have any real options at his disposal. It wasn't until later in the year that we saw this offense show some sort of identity.
So you may be wondering well, what is the Bills identity?!?! What style or type of offense is Daboll trying to bring? And all you have to do is look no further than the New England Patriots model on offense. Yes, I know that Josh Allen is no Tom Brady and their play styles are completely different but when you evaluate the offseason roster moves including the draft, it starts to make sense as to what the logic is here. The Patriots have been building their success on quick twitch WR's that separate and maximizes space between the numbers. Combine that with the ultimate "Move TE" in Rob Gronkowski, and you see why they have been shredding the opposition for years. While we aren't going to dive into too much detail here, The Pats use the spread offense more often than you realize. Since the 2015 season, (Daboll was the TE coach) the Patriots have been at the top or in the top three teams that use 3-4 WR spread sets and are almost exclusively in the Shotgun position. Let's look at the 2015 Patriots roster and compare it to Buffalo's current projected group of WR's that could make the roster.
2015 Patriots WR Depth Chart                                    2019 Bills WR Depth Chart
Flanker ("Z")
Slot ("H")
Split End ("X")
Starter:
Edelman/John Brown
Amendola/Cole Beasley
LaFell/Robert Foster
Top Backup:
Amendola/Robert Foster
Edelman/Zay Jones
Aaron Dobson/John Brown
Reserves:
Mike Williams
Isaiah Mckenzie
Andre Roberts
David Sills(PS)
Looking at the above depth chart, you see some of the same traits between the players that give us a further glimpse into what has been terrorizing teams for years. The Patriots haven't had a true #1 WR in years, we've seen them in recent seasons acquire talents like Josh Gordon, and recently signed Demaryius Thomas but those haven't panned out as of yet. If anything, we can say Gronk was that number one guy whose big, athletic, and versatile. The Bills did sign Tyler Kroft, then drafted Dawson Knox who is more like Gronk on paper but definitely a developmental, high risk, high reward type of move. The Bills have also loaded up on running backs who have defined skill sets, Gore is your pass-blocking, short yardage back. McCoy is the shifty, elusive, do it all back and we might as well throw in Devin Singletary, who Brandon Beane called a "Mini McCoy" earlier in the week. Then there's T.J. Yeldon, a guy who has cut his teeth in the league as a pass-catching running back on a new two-year deal and you see that the DNA of these offenses are almost an exact match. Still not convinced? Look at Josh Allen's stat line week 17 against the Dolphins: 17-26  224yd  3TD's oh, and I almost forgot to mention that he was 65 percent on completions while racking up two more touchdowns, picking up 95 yards on the ground. It's not the rushing touchdowns or yards we need to focus on right now, its what Josh said was the gameplan going into the week. Allen mentioned that the plan was to "take what the defense gave him" and that he did… We saw Josh throw to the RB's, and a good dose of Zay and Foster. Overall its a well-balanced performance from the rookie signal caller and something that you will see moving forward.
Most of Allen's success comes out of "Empty Sets". This is where you have an RB lined up as receivers and its purpose is to put stress on the defense at every level. Keep in mind, with Allen on the field, combined with his ability to run, and the newly acquired speed, you see that the Bills will be hard to defend in these types of sets. Here's a look at one of the staple plays the Pats have been running for years when Daboll was the TE's coach in New England, he also ran this play with Alabama during the championship run.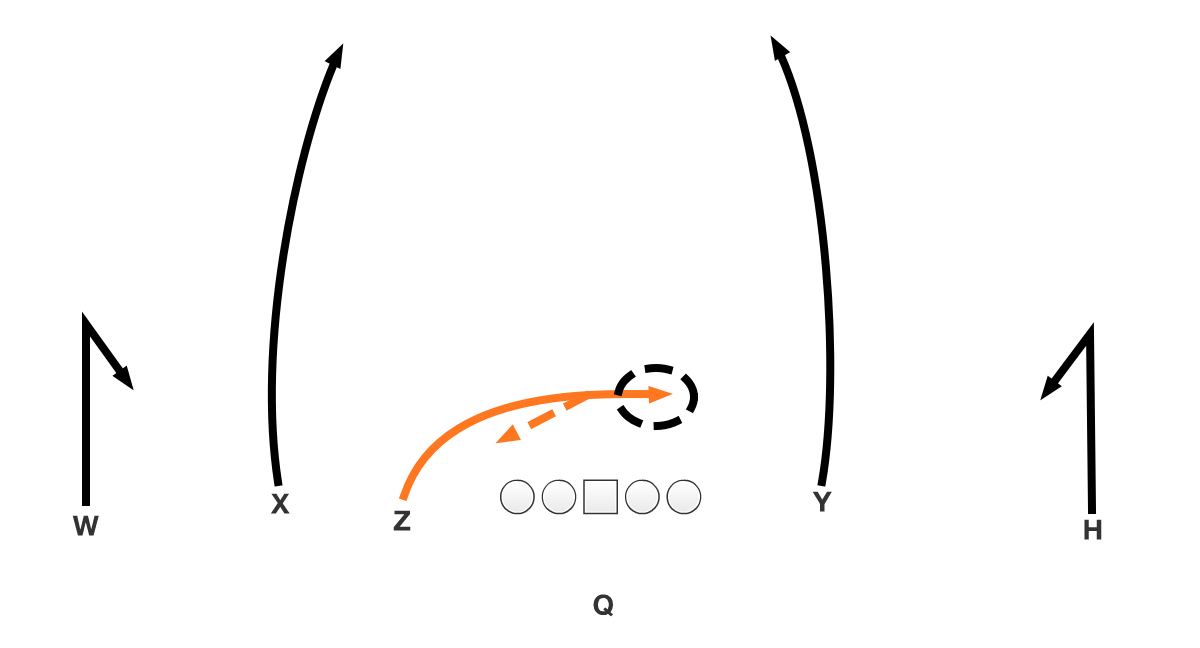 If you are a madden player or football junkie, you would recognize this as a smash-seam concept and is devastating against Cover 2 and Cover 3. This play, in particular, spreads out the defense and simplifies the field for the QB. Here, Allen has the option to call a draw, hit the stick routes (W/McCoy/Yeldon) (H/Jones), or attack the defense in its most vulnerable part of the field which is the two-seam routes and the drag run by the X(Foster) and Y(Kroft/Knox) Z(Beasley) receivers. In 2019, expect to see lots of variations of this style of the spread. I think we will also see some versions of the power-spread highlighting Allen, McCoy, and Gore as runners. Here is a quote from Daboll, talking with The Buffalo News about Empty Sets.
"When you line up in a spread out formation it does a few things," Daboll said. "One, it puts stress on your line if you're going to hold it a little bit because now usually you don't have some double edges there to help. Two, it allows him to see the field and expand the defense."
On this particular example, I'm gonna assume that the money play is the Z(Beasley). Here, his job on this play is to sit and wait, probably pick up five yards or so. The idea is to get the ball underneath. If you remember what Daboll and Beane mentioned in press conferences and interviews this off-season is that they want Allen to focus on the short game, taking the easy 4-5 yard completion with space to move after the catch. One of the things that I despise as a Bills fan playing the Pats, is that they expose your greatest weakness on both sides of the ball and Daboll is cut from the same cloth. Allen may not be the assassin that Brady is but with more development, he's on his way to being a complete dual-threat, top 10 Qb in the next three years to come. We also know the biggest jump for players come in year two, so the pressure is on Allen and Daboll to make things happen. An improved O-line, and a few weapons at their disposal we should see the Bills be able to be more balanced on offense and have the ability to pressure every area of the field. In 2019, the Bills will no longer be the kid in the corner but start to emerge as the kid everyone wants to date.