Well, this is my first and only mock draft for the season. These picks are based on what I think the Bills will do. First, let me say that I don't believe that the Bills will take 10 players in this draft. Having 28 new players coming into the fold would be kinda rich at this point. Brandon Beane loves to "get his guy" by using capital. It's possible that they get 2 1's or trade back to get the meat of the draft which is its depth in rounds 2-5. So here we go!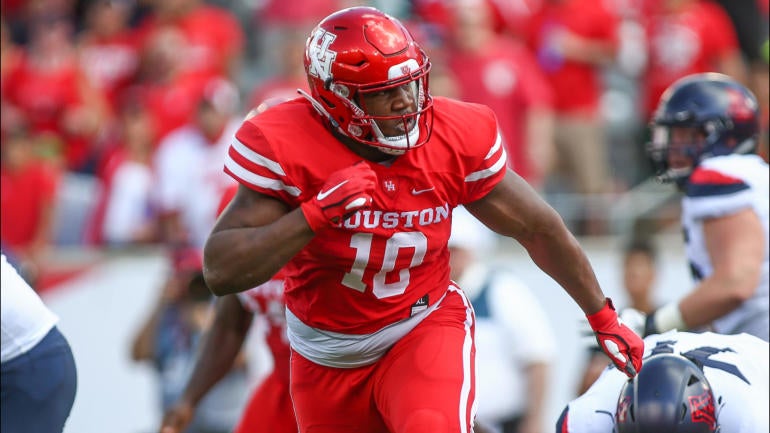 RD 1. ED Oliver DT Houston
I think he slips to the Bills here! Its time for us to get some luck, some good fortune if you will. Oliver is the super-hero upgrade to Kyle Williams. Let's just say he's the Juggernaut bitch (cmon.. that's his line in the Marvel movies). Seriously though, Oliver brings a skill-set that the Bills have not had on the D-line in my entire life as a Bills fan. Who cares about his arm size. Oliver was misused and he's going to have a stellar career.
RD 2. Irv Smith TE Alabama
Bills get a versatile TE who knows how to stretch the field vertically and understands what Daboll wants to do on offense. Pair him with Robert Foster and Levi Wallace will make his transition to the league smoother. Smith has NFL lineage as his dad played TE in the league as well. A smart kid who loves football, def a McDermott guy.
RD 3. Dru Samia G Oklahoma
Samia is just solid, I think the Bills make like his ability to get into space. Seeing him work with Mitch Morse getting to the second level will be awesome to see. Also, keep in mind that Daboll IMO wants to bring back the screen and short passing game with Josh Allen. Dru gives you the ability to be versatile on the offensive line.
RD 4. Miles Boykin WR Notre Dame
A lot of people are sleeping on Mr. Boykin and its not cool at all. He's 6'3 and has deceptive speed. Basically, he's an above the rim type of receiver with some upside. Needs to work on his route running but the value here is hard to pass up.
RD 4. Jimmy Moreland CB James Madison
All this guy does is make plays on the ball. Of the Bills CB's currently on the roster, how many of them would you say is a ball-hawk? The answer is none! Some may say this is kinda early but look what McDermott did with Taron Johnson. The Bills know how to groom young CB's and Moreland will be no different.
RD 5. Mike Edwards S Kentucky
Do you guys remember when Micah Hyde went down last season? The Defense wasn't the same so enter Mike Edwards. This guy was the heart and soul of that Kentucky defense. Just watch the tape and you will see this guy is everywhere. Bills like position versatility as Edwards can play the run and is excellent in zone coverage.
RD 6. Anthony Johnson WR Buffalo
This kid is solid and the Bills will like that he's a great locker room guy. This gives the Bills another WR who has some ability and can play Special Teams until he learns some of the nuances of being an NFL WR.
RD 6. Bryce Love RB Stanford
Just ask Christian McCaffery how dangerous this guy is and he will tell you that he's a treat to take it to the house on every snap. He's recovering from an ACL injury so he won't be able to compete this year so expect him to go on IR. The Bills also brought in TJ Yeldon this year and the two will accompany each other well in 20′ season with the expected departures of Shady and Frank.
RD 7.  Blace Brown CB Troy
He's the perfect Zone Scheme CB that McDermott will love. This kid has work to do but definitely a gamer. Solid upside and you can never have too many corners.
RD 7. Shareef Miller Edge Penn State 
He's an intriguing prospect as he doesn't play with the "dog mentality" that you would want out of a Defensive End but maybe he can develop into a solid contributor.